Corneal Ulcer Care
for St. Petersburg & Clearwater, FL
A corneal ulcer is an open sore on the cornea, that clear, outer layer covering the colored iris and pupil. Corneal ulcer symptoms may include having a red, swollen, inflamed and sore eye, feeling like you have something in your eye or experiencing discharge from the eye.
It's vital to see a doctor immediately if you see these signs because a corneal ulcer can result in scarring that permanently damages eyesight and may cause blindness.
The top risk factor for a corneal ulcer is use of contact lenses. That's why it's so important to clean your lenses properly, replace them on the right schedule and wash your hands before placing lenses in the eye.
But bacteria, fungi and even parasites can cause ulcers in people who do not wear contact lenses. Trauma to the eye can also cause an ulcer, as can having very dry eyes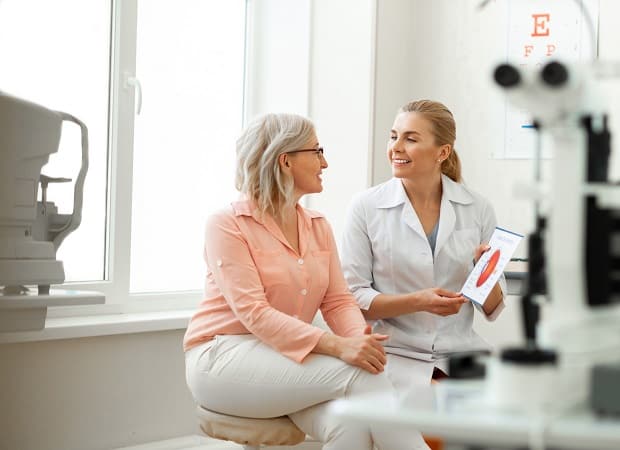 Corneal Ulcer Treatment
A special eye microscope may be needed to detect very small ulcers. Then the doctor may take a culture to determine if the cause is bacterial, fungal or even viral. Treatment is normally started immediately to prevent any permanent damage to the delicate cornea. For microbial infections, eyedrops may be administered every hour. An antibacterial or anti-fungal injection near the eye can help speed up healing. When the infection is under control, steroids can help reduce swelling.
Is Surgery Ever Needed?
Yes, in some cases, surgery is the only solution. After an infection heals, there may be scarring that requires a corneal transplant to restore clear sight. If there has been trauma such as a cut or chemical burn, transplant surgery may be the only way to repair the damaged cornea.
Corneal surgery might just replace one layer of the cornea, for example, the innermost layer, or the whole cornea with a donated cornea. Tiny stitches hold the cornea in place until healing is complete.
Corneal ulcers must be treated promptly to save your sight and even the eye itself. If you're suffering the symptoms of corneal ulcers, please do not delay. Call us to schedule an appointment for an examination and possible treatment. Call 727-585-2200 right away.