Keratoconus Treatment
for St. Petersburg & Clearwater, FL
Keratoconus is a disease affecting the cornea of the eyes. Instead of being evenly rounded, the corneas reshape into a cone-like bulge. Light entering the eye is distorted by this misshapen cornea and so can't be focused on the retina like it would with a healthy eye. The result is nearsightedness or even astigmatism.
For some people, this disease continues to develop over many year's time. For others, it will progress to a certain point and then stop.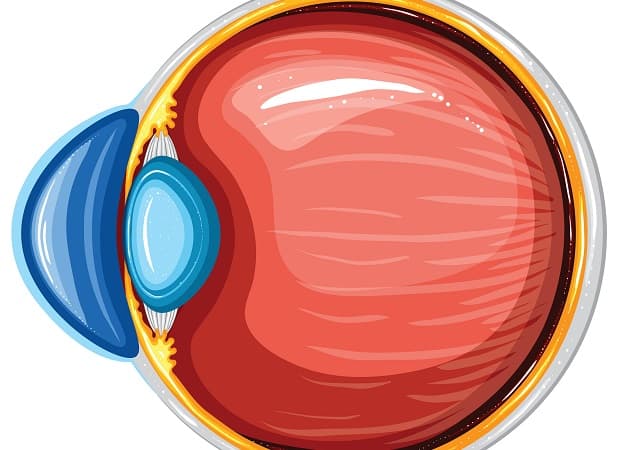 Keratoconus Causes And Signs
Genetics may be a factor in developing keratoconus because this condition is often found in multiple members of the same family. It normally begins to show up in a person's teens or 20s.
A person who sees the following signs should schedule an examination to be tested for keratoconus:
Unable to focus on far away objects or objects both near and far
Rapid changes in eyeglass prescriptions
Glare around lights
Light sensitivity
Sudden worsening of eyesight
The following factors may encourage the development of keratoconus:
Rubbing eyes excessively
Excessive exposure to ultraviolet rays from the sun
Poorly fitted contact lenses
Chronic eye irritation from environmental conditions
Having hay fever or asthma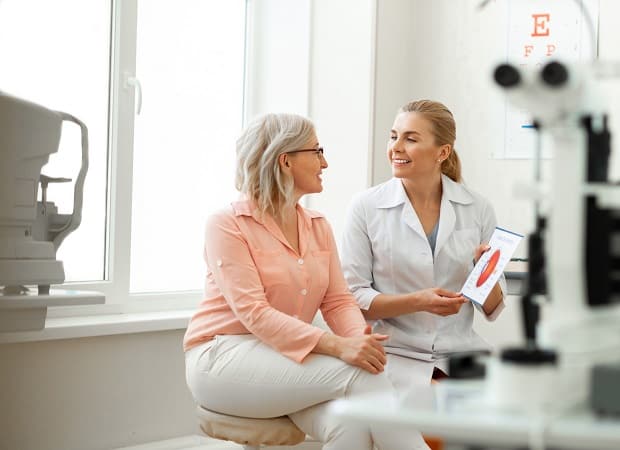 Treating Keratoconus
The first step of treatment is often fitting a patient with a rigid, gas-permeable contact lens. This inflexible lens creates an even surface for light to pass through. But because the cornea under the lens is irregularly shaped, fitting a patient with the exact contact lens that's right for them is a job for a specialist. Some people may even need specially designed contact lenses custom-fit to their corneas. A scleral lens that rests on the white part of the eye (the sclera) may be more comfortable for some patients because it does not rest on the cornea itself.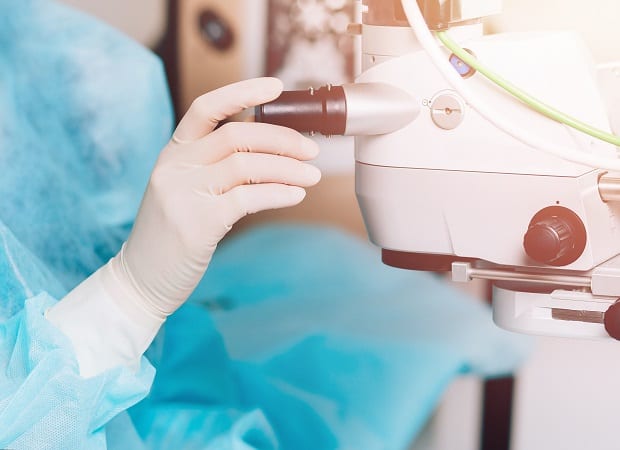 Intacs (Intrastromal Corneal Ring Segments)
Intacs are small, crescent-shaped devices surgically implanted in the cornea to reshape the curvature for better vision. It's a minimally invasive surgical option for keratoconus. Two clear, curved pieces of biocompatible material are used to flatten the cornea. They're made of the same plastic polymer as intraocular lens implants (IOLs) for cataract surgery and clear lens exchange.
The devices are placed by creating a tunnel between layers of the stroma in the cornea and are FDA-approved to treat keratoconus and restore good vision safely and effectively.
Corneal Collagen Cross-Linking
Collagen is a protein that helps hold the cornea together, interlinking with other corneal structures. Keratoconus and other diseases or eye injuries can damage the chemical bond with collagen fibers, allowing the cornea to warp and bulge outward. Corneal collagen cross-linking works to strengthen these fibers, stiffen the cornea and improve the cornea's curvature.
The procedure involves numbing drops and minimal surface layer (epithelium) removal. Riboflavin eye drops (Vitamin B12) are used and absorbed into the cornea for a continuous 30 minutes. Then a UV light beam is focused on the cornea for another 30 minutes to activate the B12 and create new links between collagen fibers in the cornea.
A 2010 study on long-term results of collagen cross-linking found that the condition stabilized for up to two years after treatment without significant side effects.
Cornea Transplant For Keratoconus
If the disease continues to progress, it might finally be necessary to perform a corneal transplant. Up to 20% of keratoconus patients may need a corneal transplant when the cornea is dangerously thin, or they can't tolerate a fitted contact lens. There are several types of cornea transplants, including penetrating keratoplasty (PK), anterior lamellar keratoplasty (ALK) and endothelial keratoplasty (EK). PK is a full-thickness cornea transplant, while the others remove diseased tissue for a partial thickness transplant.
Cost Of Keratoconus Treatment
The price of your keratoconus treatment depends on the severity of the condition. Various contact lenses can manage the early stages of keratoconus, but corneal collagen cross-linking and cornea transplants may be necessary later. Our Largo office understands the significant financial burden keratoconus treatment may have on your family, and we can help you navigate insurance issues and offer financing options. We partner with CareCredit so you can improve your vision with affordable monthly payments.
Why Choose Our Eye Doctors
We are a family-owned business with three generations of Ophthalmologists working at our office. We aim to make our patients feel at home and take pride in offering compassionate, high-quality care. We understand how keratoconus, other health conditions and eye troubles can affect you and we will help you from your first consultation to your final visit.
Our physicians regularly contribute to research and innovation in Ophthalmology and use the most advanced equipment and technology available. St. Michael's Eye & Laser Institute is in the top 1% of corneal transplant centers worldwide. You can rest assured you are in excellent hands when you seek keratoconus treatment with our eye doctors.
Finding A Keratoconus Specialist
At St. Michael's Eye & Laser Institute in Largo, Florida, Drs. John and Louis Michaelos and their colleagues offer expert diagnosis and treatment of a wide range of eye problems and diseases. These dedicated doctors have been deeply involved in innovating treatment procedures and equipment for the betterment of eye health around the world.
When you are looking for personal, caring treatment of any eye condition, please call us to schedule an appointment. Call 727-585-2200 today.