LASIK – Frequently Asked Questions
LASIK vision correction surgery was introduced to the public in 1992, and since then, St. Michael's Eye & Laser Institute has performed thousands of successful LASIK procedures for patients throughout the Tampa Bay area. We have a 100% success rate with LASIK. Our LASIK equipment is the most advanced in the industry, and our experienced ophthalmologists are among the area's most respected.
If you dislike wearing glasses or contacts and are wondering if a LASIK procedure at St. Michael's Eye & Laser Institute is right for you, here are a few frequently asked questions with answers that you may find helpful.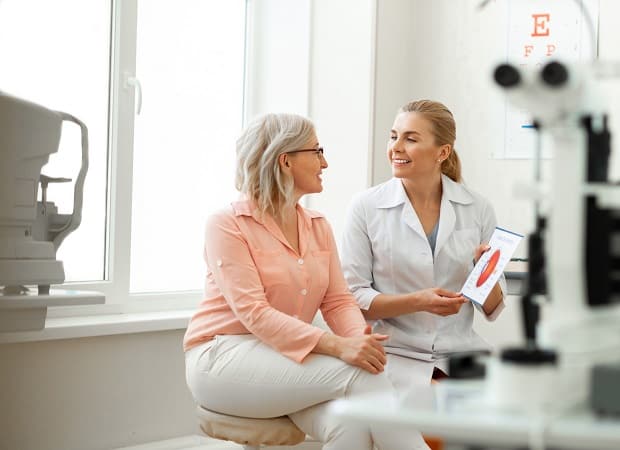 FAQ
LASIK Surgery
What conditions can LASIK surgery treat?
Designed to reduce or eliminate the need for glasses or contacts, LASIK surgery can correct nearsightedness, farsightedness, and astigmatism. Most patients will achieve 20/20 vision after the procedure, and many have reported 20/15 or better.
Is LASIK eye surgery safe?
LASIK is a safe outpatient procedure with a low rate of complications. Patients are awake during the surgery but receive anesthetic eye drops that make it painless. Gritty, scratchy, or itchy eyes are common afterward, but uncomfortable sensations usually go away completely within a few days.
How is LASIK performed?
A highly specialized laser is used to create a thin flap in the cornea, which is the clear covering over the iris and pupil. The flap is then folded back to allow access to the underlying cornea. The cornea is then reshaped using a high-precision laser so that light entering the eye focuses more accurately on the retina.
How long does a LASIK procedure take?
LASIK surgery takes only about 20 minutes for both eyes. However, you should plan on being in the doctor's office for at least an hour on the day of your surgery.
How long is the recovery from LASIK surgery?
You can expect improved vision, without glasses or contacts, immediately after surgery. Most patients can resume normal activities after one or two days, and many people are able to drive within a week, with vision continuing to improve over the next three to six months.
What are the risks of LASIK eye surgery?
As with any surgery, there are some risks involved. Complications can include dry eyes, pain or discomfort, hazy vision, impaired night-time vision, and sensitivity to light. But the majority of our patients who are safe candidates for LASIK experience a trouble-free recovery.
How much does LASIK cost?
The cost of LASIK procedures varies and depends on a number of factors such as the level of vision correction required, the surgeon's expertise, and the technology used during the surgery. Generally, a LASIK procedure costs anywhere from $1,000 to more than $3,000 per eye, a price that includes pre- and post-operative care.
Does insurance cover LASIK eye surgery?
Typically, insurance does not cover the cost of LASIK, but some large employers offer subsidized health plans that pay for at least part of LASIK costs. Additionally, you can pay for LASIK procedures using tax-free money from an employer's flexible spending account (FSA) or health savings account (HSA).
To find out if you're a good candidate for LASIK surgery, contact St. Michael's Eye & Laser Institute. Our surgery center in Largo, FL, offers complimentary pre-LASIK consultations that take into account your medical history and include a thorough eye exam.