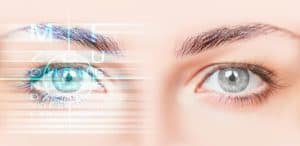 Photorefractive keratectomy, or PRK, is the original laser vision correction procedure. It is similar to LASIK eye surgery but with a slightly different approach. PRK is the better option for adults with mild to moderate refractive errors (nearsightedness, farsightedness or astigmatism) who have thin corneas or dry eyes that would complicate LASIK eye surgery. Approximately 90% of people who have PRK achieve 20/20 vision within a year of their surgery, with a 95% improvement after three months.
Our Ophthalmologists can determine if PRK is right for you during your eye examination at our Largo office.
PRK vs. LASIK
Both eye surgeries utilize a cool beam excimer laser to correct the flawed curvature of the cornea that causes your vision problems. The cornea is the clear part at the front of the eye that allows light to come in and focuses light rays on the retina that lines the back of your eyes. LASIK reshapes the cornea after a tissue flap is made in the cornea's outer surface layer, called the epithelium. The flap is lifted so that the laser can be applied to the underlying corneal tissue, and then the flap folded over again.
PRK removes the epithelium altogether using a diluted alcohol solution to give the laser room to contour the eye shape. Our eye surgeon places a soft contact lens over the cornea to work as a bandage while your eye heals and regrows the surface layer. The protective lens is removed after five to seven days.
Both eye surgeries are safe and effective ways to achieve 20/20 or better eyesight. Whether PRK or LASIK is best for you depends on your eye's anatomy and eye concerns, such as dry eye syndrome.
PRK and LASIK are among the safest procedures, but you may experience temporary light sensitivity, glare or starbursts around bright lights in the evening. Your vision might fluctuate at first, but your results will stabilize around six months after your procedure. LASIK comes with some risk for flap complications, such as flap dislocation caused by physical activity or eye rubbing. There is a lower risk of infection and scarring with PRK.
PRK Candidates
People with dry eyes, thin corneas or who lead an active lifestyle, such as pilots or athletes, are good candidates for PRK. You must be over 18 with a stable prescription for at least one year. Your eyes need to be healthy with no signs of cataracts or degenerative or autoimmune diseases. Some medical conditions rule out PRK or LASIK, including those that impact healing, such as uncontrolled diabetes. Women who are pregnant or breastfeeding need to wait until their vision has stabilized after weaning.
PRK can't address the natural loss of up-close vision that comes with age, but it may reduce your need for reading glasses.
How to Prepare for PRK and Recovery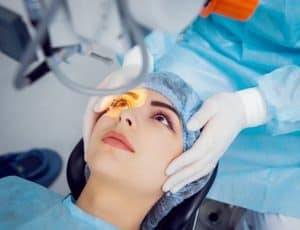 Our Ophthalmologists will explain what to expect on the day of your PRK eye surgery and the recovery process. You'll need to stop wearing hard contact lenses for several weeks before your screening visit when your eyes are tested for refractive error and overall health. Soft contact lenses should be discontinued for three or more days before your evaluation. If you wear glasses, bring them with you for review.
Don't wear makeup or bulky hair accessories on the day of your PRK procedure, and plan for plenty of rest afterward. You will need a few days off work and should stay away from physical activity. You may have some eye pain or discomfort the first few days, but over-the-counter medications along with prescribed eye drops can help. Make sure you attend all follow-up visits so that your Ophthalmologist can make sure your eyes are healing well and evaluate your vision improvements.
Schedule a PRK Consultation in Largo
If you're ready to throw out your glasses and contact lenses, contact St. Michael's Eye & Laser Institute to see if PRK is right for you.