John Michaelos M.D.
Dr. John Michaelos started his practice in 1997 and brought with him the skills needed for new technologies that were available for laser vision correction, improved techniques for cataract surgery, and new cosmetic procedures. He continues to keep up to date with the latest in technology through continuing education. St. Michael's Eye and Laser Institute is the only center in North Florida to be honored as an Alcon Center of Excellence. Dr. Michaelos was one of the first ten physicians in Florida to implant the Multi-Focal lens, known as PanOptix, making him one of the most experienced in the area.
A graduate of Largo High School, Dr. John Michaelos received his bachelor's degree at the University of Tennessee and went on to obtain his medical degree at the University of Miami, before completing a residency in ophthalmology at UT. He also completed a fellowship in corneal and external diseases at the University of South Florida. An associate professor in ophthalmology at USF and Nova Southeastern University, Dr. Michaelos is the director of St. Michael's Eye & Laser Institute as well as St. Michael's Surgery Center.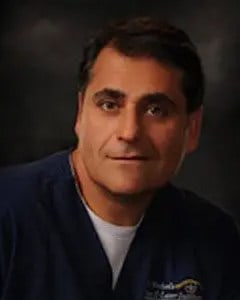 Dr. John Michaelos believes that sight is an amazing gift, and as a physician whose skill set allows him to offer his patients a better quality of life, he is the surgeon many of your friends and neighbors have trusted to improve their vision and create the flattering new face they happily show the world every day.
It's a tradition of excellence that was instilled in Dr. John by his father, Dr. Louis Michaelos, one of the area's most respected ophthalmologists for over 50 years. St. Michael's will continue to grow, but will never outgrow our very valued patients.
Dr. John Michaelos developed his CORE VALUES, which are followed at St. Michael's Eye and Laser Institute today:
Excellent Reputation
Encouraging an environment that promotes the highest quality of service possible.​
Family Environment
Maintains surroundings within the practice setting that routinely promote a feeling of trust and support for staff members and the patients we serve.
Detail Oriented
Providing a total eye care solution for the community with an endless passion for comprehensive and meticulous in everything we do.
Efficient & Effective
To always be passionate and effective, with precise accuracy to promote productivity & continued efficiency in healthcare for our community.
In 2001, Dr. John Michaelos opened the St. Michael's Surgery Center which is based on those same CORE VALUES.
Professional Affiliations
American Academy of Ophthalmology
American Medical Association
American Society of Cataract and Refractive Surgery
Florida Medical Association
American Society for Laser Medicine and Surgery
Academy of Aesthetic and Reconstructive Surgery
Professional Certifications
Dr. John Michaelos believes that maintaining excellence in patient care requires passion in everything that St. Michael's Eye & Laser does, and he considers himself blessed to be part of a multigenerational practice with a reputation for medical excellence. He is a proud grandparent, and when not caring for patients, he enjoys spending time with his growing family.